Barcelona president Joan Laporta has stated that he will do everything possible to re-sign Lionel Messi this summer.
Messi's contract with Paris Saint-Germain expires in the summer, and he is still considering his next move.
However, given Barcelona's financial situation, a lot will have to fall into place for a move to happen.
The Catalan giants must lower their wage bill by a reported £180m if they are to make any significant signings.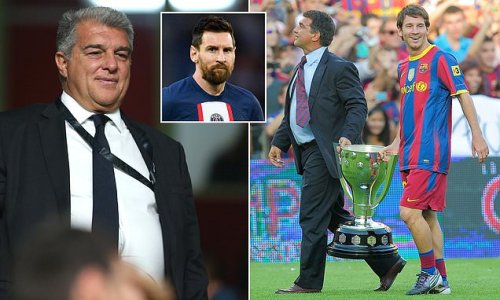 And Laporta has said the club will do whatever it takes, telling Jijantes FC that 'we will do everything we can to bring Leo Messi back to Barcelona.'

He continued: 'We are already working on next year's team. We hope to be able to reinforce the team,' he said.
'We are in an austerity plan at the club to be able to have enough fair-play to allow us to improve the team. We are doing our homework to be able to have an even more competitive team next season.'
Laporta also paid tribute to Xavi, who has now won the league in Spain as both a player and a manager following Barcelona's 4-2 win against Espanyol on Sunday.
'Xavi has been decisive. Apart from his knowledge of football, he has knowledge of the institution, of the style,' he added.
'He has worked hard so that we can offer quality football. He has been decisive. He deserves congratulations. We have a great coach. We are very happy.'